Does
EARTH DAY
matter? Only if you want it to!
Earth day is April 22nd and this year it is 40 years old

- it is the most globally celebrated environmental event

- join in all the fun things going on ( most FREE) and make some goals yourself- start recycling and reusing!

Teac

h your kids to do the same- Read

the LORAX to them! Plant a tree, start some seeds, Take a Nature WALK....

Instill in them a LOVE and deep RESPECT four our Wonderous EARTH- If you don't who will?
Earth Day Celebration
at Ogden Nature Center
Saturday, April 17, 12-4
The entire community is invited to come learn and play! Earth Day is a day of education, celebration and action! This year's Earth Day Celebration is packed with new ideas for sustainable living, live entertainment, earth-friendly presentations, great activities for children, gardening, recycling, plants, and more. Children will love the water trailer and the rock climbing wall. Come learn and play!
Cost: $1 per person or FREE if you bicycle, walk or ride the bus!
Here are more Fun things going on in Ogden and SLC...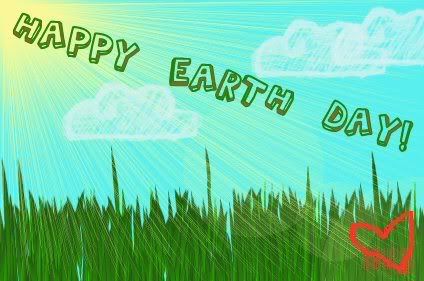 FREE day at Red Butte Gardens ( sat)
FREE day at the Museum of Fine Arts ( sat)
LOcal Borders are hosting a FANCY NANCY day- FREE ( sat)
( Not really earth day stuff but FUN nonetheless!)
In honor of Earth Month, The Salt Lake City Film Center is providing a chance for you and your family to come to the Gateway and see a free screening of Earth on Thursday, April 16th at 7:30 p.m. The event is free, and will feature a nature documentary from Disneynature. http://www.slcfilmcenter.org
• Bend in the River Earth Day Planting at 1030 West Fremont Avenue in Salt Lake City. This event is free and fun for the whole family from 8:30 a.m. – noon this Saturday, April 18th. Bring your own gloves, shovels and bottled water and enjoy a light breakfast followed by a weed removal and planting. Following that, a lunch will be served before a naturalist-led tour of the Jordan River. The Girl Scouts will be on hand to help host children's activities.
http://www.bend-in-the-river.org/
• Hogle Zoo is hosting a "Party for the Planet" event on Saturday, April 25th. Come explore the tropics of Hogle Zoo and be a part of the animal presentations, and learn about ways to keep our planet clean. Food, music and live entertainment will make this a fun event for the whole family. Visithttps://www.hoglezoo.org/events_experiences/events_calendar/04-25-2009/party-for-the-planet, for more info.
• Earth Week at the City Library. Pick up a take-and-make bird seed project at any city library, Monday, April 20th –Saturday, April 25th during library hours. Log onto http://www.slcpl.org for more info. Also ,check out your local libraries for other scheduled events.
• The Gallivan Center in downtown Salt Lake City is having EarthFest featuring green vendors and live music on April 22nd. The event is free for all ages and open to the public.
http://thegallivancenter.com
.
• The Whole Foods Market at 6930 South Highland Drive is celebrating Earth Day with free bike tune-ups, a clothing drive for the Big Brothers/Big Sisters of Utah a seed planting activity and giveaways. The event is free for all ages and goes from 12:00 p.m. – 7:00 p.m. on April 22nd. http://www.wholefoodsmarket.com.